Precision CNC Machining in Rochester, Indiana
Flenar Manufacturing specializes in precision CNC machining. Our success in this field is due equally to the extensive knowledge of our team as well as the unique machining equipment we use. We have experience machining tight tolerances (±.0005), as well as small components in various types and grades of materials. Some of the most common materials we deal with include stainless steels, titanium, aluminum, carbon steels, and plastics. Regardless of your project specifications, contact Flenar Manufacturing today to learn about how our advanced machining capabilities can assist you.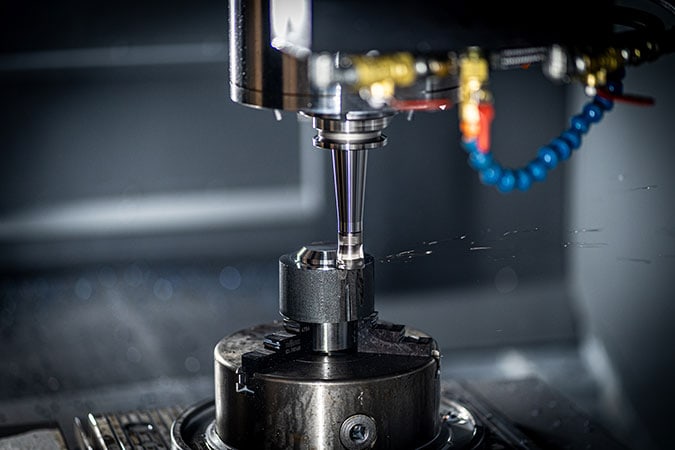 Computer Numerical Control, or CNC, is machining that uses sophisticated computer software to inform automated machining processes. Each movement of a CNC machine is dictated by a small microprocessor embedded in the tool, which is driven by software that directs the tool's action. To program a CNC machine, trained programmers or engineers upload digital instruction of the component to a computer-aided design (CAD) system. Then, using a CNC coding language, the programmer gives the machine its instruction for fabrication.
Most CNC machines operate on either 3 or 5 axes, giving these machines tremendous mobility and range of motion for completing the most complex parts, all without manual intervention. CNC machine tools can perform many tasks, including milling, turning, and drilling.
The precise nature of CNC machine tools means they have the capacity for detailed work, high efficiency, and significantly decreased run-time. Not only are the time and money-saving aspects of CNC machines notable, but so too is the resolution of myriad safety issues. Simply put, the only time a person has to interact with these machines is when they are being programmed. As a result, contact with cutting tools is eliminated, freeing up a workforce to oversee production, focus on complex assembly, and end a significant occupational hazard.
Of course, the most significant draw to CNC machining is its unmatched accuracy and virtually zero waste. CNC machining allows shops to build highly complex components with high fidelity. Because CNC machines can troubleshoot a product before fabrication even begins, the processes of trial and error – an endless cycle of machining and tweaking – is eliminated. If the design and input have been accurate, the component is already repeatable when a product completes its first run and is assembled.
Flenar's expertise in applying CNC machining saves customers time and resources. CNC machine tools have the capacity to fabricate with detail and complexity that would have previously taken hours, manpower, and an accepted degree of variation.
Can't find what you're looking for?
try searching for a keyword below.
Contact us today for a free estimate.