Precision CNC Machining in Rochester, Indiana
Flenar Manufacturing specializes in precision CNC machining. Our success in this field is equally due to the extensive knowledge of our team as well as the unique machining equipment we use. We have experience machining tight tolerances (±.0005), as well as small components in various types and grades of materials. Some of the most common materials we deal with include stainless steels, titanium, aluminum, carbon steels, and plastics. Regardless of your project specifications, contact Flenar Manufacturing today to learn about how our advanced machining capabilities can assist you.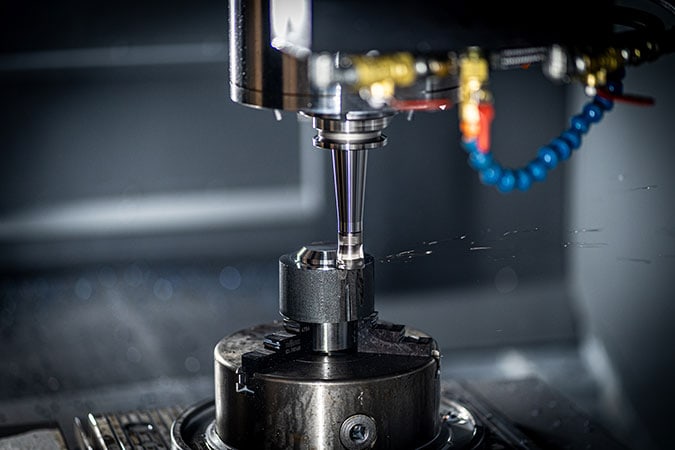 With a vertical dual station 5-axis milling center that allows for parts to be rotated during machining, Flenar Manufacturing is capable of machining even the most complex parts quickly and efficiently. We are commonly able to complete parts with limited operations, reducing setup time and ensuring close feature to feature tolerance. We are also capable of offering one-off milling services if the part fits the capability. Visit our About page to learn more about this machining center and the equipment we use.
The process of Swiss turning uses a sliding head stock lathe that clamps and pushes material through a bushing to a stationary cutting tool. This creates a very rigid machining condition which allows for production components that would typically challenge traditional slant-bed turning centers. Our Swiss turning machining center also includes a bar feeder that provides some automation and continuous run options, allowing us to operate quickly and more efficiently than other precision machine shops. This machining center has multi-axis capabilities and is often used for components that are relatively long with a small diameter.
Can't find what you're looking for?
try searching for a keyword below.
Contact us today for a free estimate.